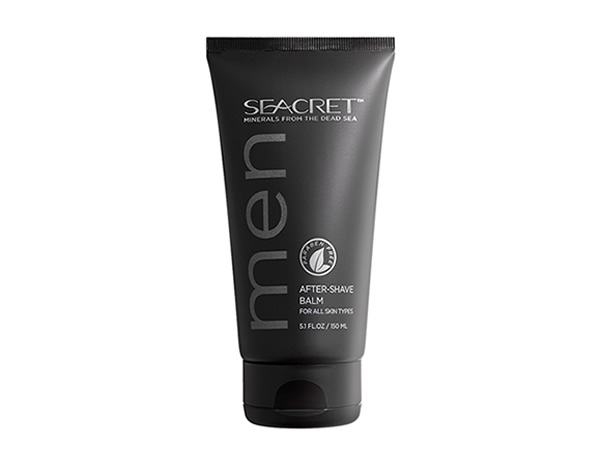 Body Care
Seacret Men's After Shave Balm
Shaving is no one's favorite activity, but you can make it a little better with this cooling, easily-absorbed after shave balm that hydrates and moisturizes pores.
See What People Are Saying About Seacret Men's After-Shave Balm
Hypoallergenic
The Product was tested By the Institute for Skin Research and was found to be Allergy safe.
Dead Sea Ingredients
Using the finest ingredients to compliment Dead Sea Minerals, Mud and Salt
Paraben Free
This formula does not contain any Parabens as preservatives.
Not Tested On Animals
Seacret Did not test this product on animals , Seacret is against animal testing.
Key Ingredients Of The Men's After-Shave Balm From Seacret
Aloe Vera Oil
Allantoin
Amino Acid
Carbohydrate
Chamomile
Dead Sea Minerals
Glycerin
Evening Primrose Oil
Lactic Acid
Orange Oil
Pro Vitamin B5
Rosa Centifolia
Rosemary Oil
Sodium Lactate
Seacrets Men's After-Shave Balm
The Seacret after-shave balm is enriched with Dead Sea minerals that nurture skin and promote it's natural smooth look. Containing Aloe-Vera, rich plant extracts, Evening Primrose oil and Vitamins A, B, C and E. SEACRET™ After-Shave Balm restores the balance of moisture to promote soft and radiant skin with a refreshing scent.
How To Use The Seacret Men's After-Shave Balm
Gently spread on face and neck after shaving using circular motions until fully absorbed.
What People Are Saying About Seacret Men's After-Shave Balm
I am progressively getting more and reliant on Seacret already using the body butter thought I'd try the After-Shave Balm and unlike many Balms Seacret's has a long lasting protective feeling. Enjoying using very much.
This Seacret product is superb, no cloying scent (pleases my wife!) and soothes my skin perfectly (pleases me!). I would recommend this product without hesitation.
Body Care Seacret Nail Buffer & Nail File SetWith the magic buffer, you will begin to restore and repair your nails by giving them the fighting chance to withstand all that's out there. Not only will you be boosting the health of your nails but you will also be the...
read more
The Perfect Product For Every Women & Man
Allow Seacret to bring you the rejuvenating magic of the Dead Sea. Seacret Dead Sea products are the best and most luxurious beauty products available online and worldwide.
All of our products are simple to use, sustainable and safe. Seacret Dead Sea cosmetic range is tailor-made for environmentally conscious women with no extra packaging, no animal testing and no phthalates or parabens.