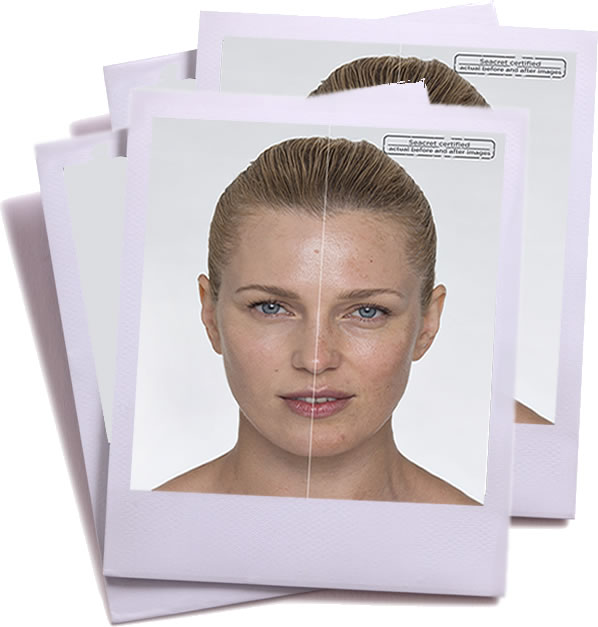 Introducing the premier Dead Sea skin care products for women & men of every generation
You can now enjoy the rejuvenating properties of the Dead Sea with Seacret skin care products.
Seacret Dead Sea skin care products are the best and most luxurious Dead Sea beauty products available on the market
Seacret Skin Care Range
The team at Seacret have packaged the essential elements of the Dead Sea into the most advanced proprietary products, creating an unmatched line of skin, face, and body formulations. Seacret skin care products holds 3 registered patents and has 4 additional patents pending.
It is important to understand that the collagen in our human skin is made up of long chains of amino acids strung together in linked building blocks. When your skin is broken down, short chained segments of 3-5 amino acids are created and are called peptides.
Peptides act as a signal to your skin to make new collagen as it has been damaged.
Seacret's Age-Defying Collection contains unique stimulating peptides to assist your skin in its ability to produce more collagen, while relaxing & reducing the fine lines caused by regular facial expressions.
Recover™ is the name of our patented, anti-aging formula that amzingly and instantly reduces the appearance of wrinkles and fine lines while providing long-term results. Clinical studies for on Seacret's Recover™ product have been undertaken in the best laboratories in the world, with one of the most advanced labs for pharmaceutical product testing.
These studies show an immediate decrease in wrinkle depth of up to 44%, and a 50% decrease after 1 month of use.
Your skin & body deserves the best nature has to offer. You deserve Seacret skin care products.
What people are saying about Seacret skin care products…
I'm a huge cosmetics consumer. For the past 12 years I've been putting a lot of efforts in facial treatments and paid good dollars high quality and effective skin care products.
I consider myself picky when it comes to the cosmetic products I buy.
Since I started using Seacret products 4 months ago. I see a real improvement in my skin tone, fine lines are less visible and I have significantly less breakouts. Great products. 
The first time my Seacret Agent demonstrated this product on my wrist I was very surprised and then very curious. What was that white stuff? My dead skin?!?! Ewwwwwwwww. . . .I MUST have it!
Two years later it has become a standard part of my beauty routine for my 48-year-old-face. I regularly get mistaken for a much younger  woman  This stuff leaves my skin free of pesky dried skin flakes. I really do love it.
Absolutely love this! Unfortunately I laid in the sun from a very young age without sunscreen.
Now I can see the damage I've done on my face! And I endured years of acne even as an adult. Well, this peeling gel along with dermabrasion has helped turn back the clock. The fine lines I was noticing are diminishing and my skin has a beautiful glow. This works as an exfoliator but incredibly gentle. Love it – you need to try it!
Seacret Dead Sea beauty products uses the finest ingredients to compliment Dead Sea minerals, mud and salt, so your skin receives the maximum benefits from the Dead Sea.
Treat yourself with Seacret's Dead Sea skin care products to create a skin care regime that will allow you to have soft and younger looking skin.
Seacret's Dead Sea products are renowned for their unique properties, which help hydrate and nourish facial skin, making you look young , fresh and feel amazing.
Cleopatra was known to nurture her beauty at the Dead Sea from time to time, and now you can do the same with the Seacret hair care range.
In the past, the Seacret Dead Sea skin care routines have been a well guarded secret. But now it is available to all who want to take advantage of amazing products & enjoy amazing results
Welcome to the world of SEACRET! For centuries, the Dead Sea has been a prime & exotic destination for those wishing to renew and extend life.
The Perfect Product For Every Women & Man
Allow Seacret to bring you the rejuvenating magic of the Dead Sea. Seacret Dead Sea products are the best and most luxurious beauty products available online and worldwide.
All of our products are simple to use, sustainable and safe. Seacret Dead Sea cosmetic range is tailor-made for environmentally conscious women with no extra packaging, no animal testing and no phthalates or parabens.
Body Care Seacret Nail Buffer & Nail File SetWith the magic buffer, you will begin to restore and repair your nails by giving them the fighting chance to withstand all that's out there. Not only will you be boosting the health of your nails but you will also be the...
read more
Body Care Seacret Men's After Shave Balm 150ml - VIP Price $34.99 Shaving is no one's favorite activity, but you can make it a little better with this cooling, easily-absorbed after shave balm that hydrates and moisturizes pores. See What People Are Saying...
read more
Body Care Seacret Men's Oil Free Hydration Gel 50ml - VIP Price $55.99 Give your skin the moisture it craves with this easily absorbed gel that won't leave extra shine or oils behind. Suitable for use morning and night, this gel will keep your skin looking smooth and...
read more
Body Care Seacret Men's Liquid Face Wash 100ml - VIP Price $31.99 Whatever the day throws at you, you'll be prepared with this rejuvenating wash that not only cleans the skin but protects you throughout the day. See What People Are Saying About Seacret Men's Liquid...
read more
The Most Search Terms On Google (7-60)